Account Strategist
4+ Years Experience
Knoxville, TN
About The Position
Baker Labs is an award-winning digital marketing agency in Knoxville, TN, that helps build unique narratives for clients in the healthcare industry.
As an Account Strategist, you will work with clients in meeting their strategic business objectives by defining, implementing, and managing creative marketing strategies designed to align our key capabilities with their biggest needs. This could include digital ad campaigns, dynamic social media content, or an SEO-optimized editorial calendar for clients. Your work will help clients grow and have an impact on them beyond what they have experienced before.
Our team accomplishes this impact by focusing on our core values:
Craftsmanship - Details in all things, improvement daily, and excellence in all that we do.
Candidness - Be thoughtful and clear with our clients and ourselves.
Be Smart. Be Creative. - Be smart and creative as we solve problems.
The Ideal Candidate
The ideal candidate must possess strong communication skills, both written and verbal, be highly motivated, able to work under pressure, and manage many details well.
Project management, time management, and leadership skills are required. The candidate should also enjoy high levels of responsibility, autonomy, and should show an ability for creativity and strategic thinking.
Responsibilities include:
Understanding client objectives and driving creative digital marketing strategies to meet them
Managing all aspects of an account, including marketing strategy, internal resources, timeline, and budget to meet key client business objectives
Establishing and implementing business, marketing, and communications strategies which could include:
Managing social media platforms which includes generating and sharing content, online community management, and conducting regular analytic reviews
Promoting brand awareness through SEO optimization and attractive web design
Analyzing online campaign performance and providing recommendations for improvements
Producing and presenting ideas along with final work products to clients
Identifying and communicating growth opportunities for clients by staying aware of the industry and trends
Setting & maintaining project timelines, including planning milestones and deadlines
Leading your account team, working closely to ensure deliverables meet client expectations within the defined timeline and scope
Managing resources to meet the project scope, schedule, and budgets
Analyzing, interpreting, and presenting results based on key client objectives
Developing and delivering effective business proposals for clients.
Develop a positive professional working relationship with all clients for business growth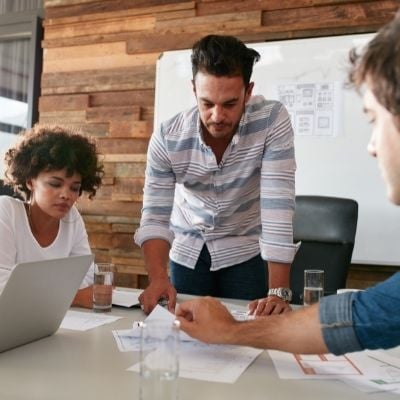 This is a full-time position reporting directly to senior leadership. Our office is located in historic North Knoxville and we enjoy a hybrid work environment along with other great benefits including paid time off, company matched 401K retirement plans, health benefits, gym membership, and continuing education opportunities.
Our growing team is passionate about delivering creative solutions that meet the needs of our clients while exceeding their expectations
Candidates should possess a Bachelor's degree in business, marketing, communications, or advertising-related fields and have at least two years of experience in managing projects, teams, or accounts. The candidate should also enjoy high levels of responsibility and autonomy and should show an ability for creativity and strategic thinking. Advanced computer proficiency is required.
Next Steps
To apply, you may fill out the form on this page or send your resume and optional cover letter to: renee@bakerlabs.co. Please put the following in the subject line: Account Strategist - Knoxville Office.